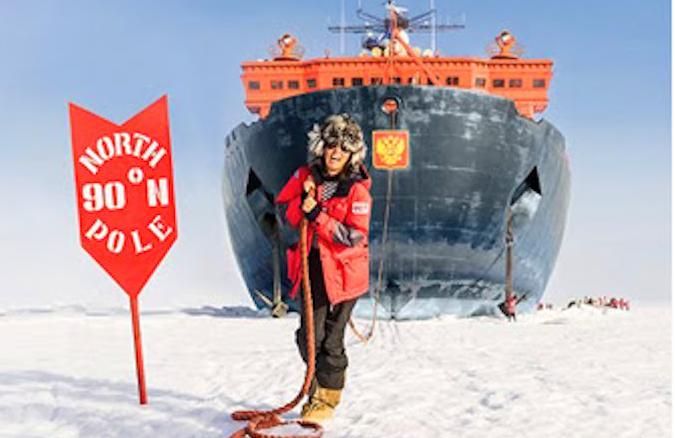 By   James Shillinglaw, May 01, 2020m
Right now snuggling up in an armchair with travel videos may be best antidote that yearning for places far away. As the world is still in lockdown mode, most of us long for the day we can freely explore the world once again. And your clients can start to dream with some inspiration from images and videos of great travel experiences.
That's why Poseidon Expeditions is offering up an online travel menu of virtual expedition cruises in Antarctica in winter and the the wild Arctic in summer and even the geographic North Pole. Experiences include, among others, kayaking among the icebergs, safe encounters with whales and polar bears and a helicopter flight over the Top of the World.
"If you have the travel bug fever, we recommend treating symptoms with polar ice – via our extraordinary videos," said Steve Wellmeier of Poseidon Expeditions.
Poseidon also has introduced a "relaxed" reservation policy for new bookings for the 2021 Arctic and 2021-22 Antarctic seasons aboard the 114-passenger Sea Spirit. For these new bookings in 2021-22 the deposit is reduced from 20 percent to 10 percent, and travelers have two months before the deposit is due. For Poseidon 2020 Arctic programs, get coronavirus-related updates by clicking on Poseidon Expeditions Coronavirus Info.
Here's a selection of Poseidon Expeditions' destination videos (click on the highlighted name): East Greenland, Franz Josef Land, North Pole, North Pole by Helicopter, Svalbard: Where Does the Ideal Adventure Lead, Antarctica, Kayaking Antarctica.
For videos of Poseidon's ships, click on: mv Sea Spirit or Nuclear-powered Icebreaker, 50 Years of Victory. For an interview with the Captain of 50 Years of Victory, click on Captain Video. Additional videos can be found by clicking on Poseidon Expedition Videos.
With offices in the U,S., U.K., Germany, Russia, Cyprus and China, Poseidon Expeditions is a leading provider of polar expeditions. The company is committed to safe and environmentally responsible polar travel. It is a member of the International Association of Antarctica Tour Operators (IAATO) and the Association of Arctic Expedition Cruise Operators (AECO). For more information, call 347-801-2610, email SalesUSA@poseidonexpeditions.com or visit www.poseidonexpeditions.com.